Imagine you are in front of a group and you are discussing the importance of an issue.  Everything seems to be going well.  People are being receptive to what you are putting out there.  You see heads nodding up and down in agreement with the content you are presenting.  You start to feel good about the material and the way things are going, proud even.
All of the sudden someone in the back raises their hand and waits on you to recognize them.  You come to a natural stopping point and look in their direction.  You raise your eyebrows and point at them and wait for them to speak.
Bam!  They might as well have stood up and punched you in the mouth.  They've asked a question that is not only negative and goes against everything you just presented, but is very disrespectful.
For more get:
The Jerk Whisperer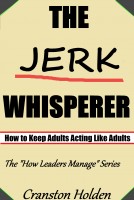 https://www.smashwords.com/books/view/470598
The Jerk Whisperer – How to Keep Adults Acting Like Adults