When anyone is in a leadership role they are occasionally challenged by other people with their bad behavior, whether its a parent, a supervisor, a minister, or a team captain.  Bad behavior is always harmful to all it touches; to the people that are exposed to it, to the recipient, and to the person on the receiving end of the behavior.
Imagine you walk into a room to make an announcement for an upcoming meeting.  You hear someone's off putting and sarcastic comment, "Great another wooooonderful meeting."
Imagine you approach an employee and ask him to do a simple task and he responds, "Why do I have to do it.  You never ask anyone else to do it?"  Everyone turns and looks out of the corner of their eye waiting on your response.
For more get:
The Jerk Whisperer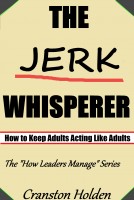 https://www.smashwords.com/books/view/470598
The Jerk Whisperer – How to Keep Adults Acting Like Adults