"Good morning John. Good Morning Paul. How was your weekend?"
"Oh mine was great. I got a chance to spend some time with the family at a water park. Let me tell you, they had a blast, but I think I probably enjoyed it more than they did", Paul blurts out obviously still excited about the weekend and just waiting on someone to ask as he sips his coffee.
"What about you John?"
"It was way too short", John says as he smiles. "No it was good. I just sat around the house and relaxed. It was really refreshing. It made me ready to get some stuff done this week."
"That's how mine was also…relaxing."
A man walks in with his shoulders slumped with a look of agitation already on his face and steps between the three people talking to each other and begins to pour himself a cup of sugar with a little coffee sprinkled on top.
"Ralph, how was your weekend?" Paul asked. John immediately exhaled a long sigh, almost exactly predicting how the conversation was about to go downhill.
Ralph begins to complain about his weekend, then having to come back to work to a job he doesn't like, then how the government can't get their crap together, then finally how bad the coffee taste.
Ralph is a VAMPIRE!
Vampires suck all the energy out of the room the moment they appear. They always have a reason something won't work, usually accompanied with a quick anecdote reinforcing their negativity. To them it is futile to even try.  This mentality leaves them with an endless list of unsolvable problems that they are more than willing to share if given any opportunity.
Vampires however, aren't depressed! On the contrary, they get great enjoyment and pleasure from destroying the positive feelings of those around them.  The only time you will truly see them smile is when they've driven everyone else into a sulk.  They wish to bite anyone with positive promise and convert them to joining the evil brood that annihilates a positive atmosphere.
Once bitten, if you don't hold the anecdote, you yourself can turn into a workplace vamp.
How to kill a vampire:
Traditional vampires shrivel and die when exposed to sunlight. Workplace vamps react similarly when exposed to reason and reality.  Here are some practical saying you can use as wooden stakes when facing a vampire:
"Wow, that's pretty negative. Anything else terrible we should know about?"
"Ralph, I see you're not a morning person."
"You're a bright ray of sunshine today aren't you?"
"You know, it's a bright and beautiful day outside…but in here there's a dark miserable cloud. I hope it changes soon."
Make sure you smile after you say this. (See The Art of Smiling and Scolding). Then move on as if the negative comment wasn't made. As long as you refuse to get caught up in the negative vapor they are releasing, they will get frustrated and move on to suck the energy from somewhere else.
If implemented correctly they will move on but may throw one last dagger they sound something like this: "I'm not being negative, I'm just being real. Some people don't like reality."
Now it's up to you to decide if you want to respond to their departing hail-mary but if you do, I suggest telling them that is THEIR REALTY, not yours!
DISCLAIMER: I'M NOT NOW NOR WOULD I EVER ACTUALLY SUGGEST ANYONE BE KILLED LITERALLY!!
For more get:
The Jerk Whisperer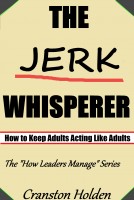 https://www.smashwords.com/books/view/470598
The Jerk Whisperer – How to Keep Adults Acting Like Adults