"Ummm …. Hey, this lady on the phone wants to talk to a manager and she doesn't sound happy!"
This simple phrase can send chills up the spine of any leader. You have an upset customer and you are about to catch an ear full for something you or someone of your team messed up.
No matter how skilled your people are and how well you equip them to handle the situation, sometimes being the boss has a price to pay and that price is dealing with irate customers. Even if your organization is in the top 1% of elite companies, you will still have to field these calls at times.
https://www.smashwords.com/books/view/501032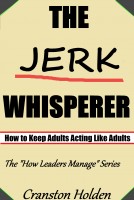 https://www.smashwords.com/books/view/470598
The Jerk Whisperer – How to Keep Adults Acting Like Adults